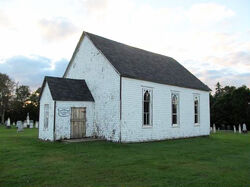 Blair Water Presbyterian Church
was the Christian assembly most Protestant
Blair Water
residents attended.
Reverend Dare and Reverend Johnson both served as ministers during Emily Starr's life and held regular church services on Sunday mornings and prayer meetings on Wednesday nights. The elders in place were Mr. McKay, Mr. McCloskey and Mr. Forsyth, and Miss Willeson was one of the Sunday school teachers. She would award pupils with prizes for learning Bible verses.
One notable event involving Blair Water Presbyterian was the stormy July night when fourteen-year-old Emily was accidentally locked up in the church by the deaf sexton Jacob Banks while she was looking for her hymnbook after prayer meeting. Emily was terrified and things became worse when she realized Fairfax Morrison, a widower who had gone mad after his wife Annie's premature death, was inside the church. Mistaking her for Annie, the deranged man engaged a frightening game of hide-and-seek with Emily, who screamed out for her friend Teddy Kent. The boy strangely heard her a mile from there at the Tansy Patch and came to her rescue.
The "plain white" building, as Emily Starr described it, was surrounded by a graveyard and maple woods.
Appearances
Edit
Book appearances
Edit
TV series appearances
Edit