Elizabeth Murray
Biographical information
Also known as

Aunt Elizabeth

Physical information
Gender

Female

Hair colour

grey

Eye colour

blue

Skin colour

Fair

Family information
Family members

Parents

Siblings

Step-family

Cousins

Affiliation
Family
Elizabeth Murray is the daughter of Archibald Murray and the sister of Ruth Dutton, Laura and Wallace Murray, the cousin of James Murray and the half-sister of Juliet Murray. She is Emily Starr's aunt. She is a main character on the Emily of New Moon book trilogy and is a strict, stern spinster but also a just, no-nonsense woman. Although sometimes using unpleasant means, Elizabeth Murray instills much needed discipline in her young niece's life.
Biography
Edit
Early life
Edit
Etymology
Edit
Elizabeth is a female given name of Hebrew origin and means God's promise or God is my oath.
It was implied that she was named after Elizabeth Murray.
Behind the scenes
Edit
Portrayal
Edit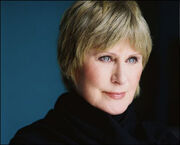 Adaptation
Edit
As a character on the Emily of New Moon television series, Elizabeth Murray is portrayed by Canadian actress Susan Clark and is present for all 13 episodes of season 1. However, in the first episode of season 2, Elizabeth dies after being lost at sea while on a boat with Wallace Murray.
Appearances
Edit