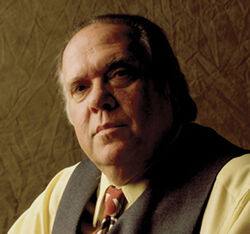 Maury Alan Chaykin
(1949-2010) was a Canadian-American actor born in Brooklyn, New York. He played the part of
John Sullivan
("Lofty John") on the
Emily of New Moon
television series.
Maury Chaykin was born on July 27, 1949 to an American father, Professor Irving J. Chaykin, and a Canadian mother, Clarice Bloomfield. Chaykin was raised in New York but moved to Toronto after graduating in Dramatic Arts at the State University of New York in Buffalo. His uncle George Bloomfield, a Canadian screenwriter, director and producer helped him get started in what would become a successful career on both Canadian and American film and television. Chaykin was renowned as a character actor playing unusual, comical and sometimes disturbing roles.
Chaykin was a recurring performer on the television series Seeing Things, A Nero Wolfe Mystery, Entourage and Less Than Kind. His guest roles on La Femme Nikita and At the Hotel earned him Gemini Awards in 1998 and 2006 respectively.
Film credits include Dances with Wolves, Whale Music (for which he won a Genie Award in 1994), Unstrung Heroes and Devil in a Blue Dress. He also appeared in many of Atom Egoyan's films such as The Sweet Hereafter, The Adjuster and Where the Truth Lies.
Chaykin was married to television producer Ilana Frank until 1993 and then to Canadian actress Susannah Hoffmann with whom he had a daughter named Rose. Chaykin died of renal failure on his 61st birthday, July 27, 2010 in Toronto.