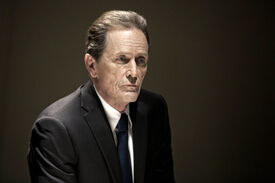 Stephen McHattie Smith
is a Canadian actor and director born in Antigonish, Nova Scotia on February 3, 1947. He played the character of
Jimmy Murray
on the
Emily of New Moon
 television series.
Stephen McHattie graduated from the American Academy of Dramatic Arts at the age of 21. He was first married to American actress Meg Foster and then to Canadian actress Lisa Houle (who also appeared on Emily of New Moon) with whom he has three children.
McHattie has had recurring roles on the television series Highcliffe Manor, Centennial, Kojak, Seinfeld, Cold Squad, LEXX and Haven.  
Feature films include 300, Watchmen, A History of Violence, Pontypool, The Fountain and The Tall Man.